Giveaway ended 102 weeks, 1 day, 10 hours, 14 mins and 41 secs ago
Points to enter: 100
Number of copies: 50
Number of players: 1714
Message from the developer:
Hi! My name is Francisco Sáenz and I'm one of the developers of Reversion - The Escape and Reversion - The Meeting.

We are doing this giveaway to promote the game and also to promote our Steam Greenlight page.

I'd love to count with you and your friends to support Reversion in the Greenlight process! Now that steam has been selecting more and more games we are very close to be Greenlit, thanks to all of you who have already helped us! :)

Jumping to the link below you'll find the way to vote for our game on Greenlight! :)

Our game is available in other stores right now, but we really need your support within this huge community to reach as many people as possible, thank you very much!! :D

As a second giveaway, you can download the first chapter of Reversion for free from Desura!

Get in touch!
Facebook: http://www.facebook.com/reversion.eljuego
P.S. All winners of this giveaway will receive also STEAM keys when this game is Greenlit!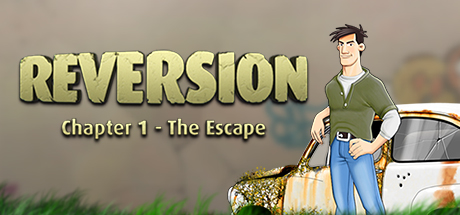 Search all the open/coming giveaways for Reversion - The Meeting (2nd Chapter)
Winners
Congratulations to the people below ! For security, winners remain anonymous until their gift is received.
| | | |
| --- | --- | --- |
| Avatar | Username | Feedback |
| | MarcoNB | Gift Received |
| | Ipeace | Gift Received |
| ? | Unknown | Waiting |
| | valexp | Gift Received |
| ? | Unknown | Waiting |
| | SKyd3R | Gift Received |
| | Ice0ner | Gift Received |
| | Ultraman | Gift Received |
| ? | Unknown | Waiting |
| ? | Unknown | Waiting |
| | VitasMut | Gift Received |
| | MrDownerup | Gift Received |
| | Some_1 | Gift Received |
| | Nuriah | Gift Received |
| | Fisheye | Gift Received |
| | randomjdx | Gift Received |
| | rednex12 | Gift Received |
| | whiskey_wizard | Gift Received |
| | Viveff | Gift Received |
| | pcw123 | Gift Received |
| ? | Unknown | Waiting |
| | m3rihim | Gift Received |
| | Ivan1226 | Gift Received |
| | Gladiadorazo | Gift Received |
| | TimerMen | Gift Received |
| | theshich | Gift Received |
| | alessio1970 | Gift Received |
| ? | Unknown | Waiting |
| | wemoney | Gift Received |
| | slyfox | Gift Received |
| | Bunnyrabbit172 | Gift Received |
| | kilowod | Gift Received |
| | HagureShinma | Gift Received |
| | SilencerVN | Gift Received |
| | atarsavar | Gift Received |
| | BlackArk89 | Gift Received |
| | Ominashu | Gift Received |
| | A1exB94 | Gift Received |
| | bazramt | Gift Received |
| | DJSparky98 | Gift Received |
| | simonklw | Gift Received |
| | toorbojet | Gift Received |
| | EugeneMor | Gift Received |
| | archivedx | Gift Received |
| | iMariney | Gift Received |
| ? | Unknown | Waiting |
| | alidarcan | Gift Received |